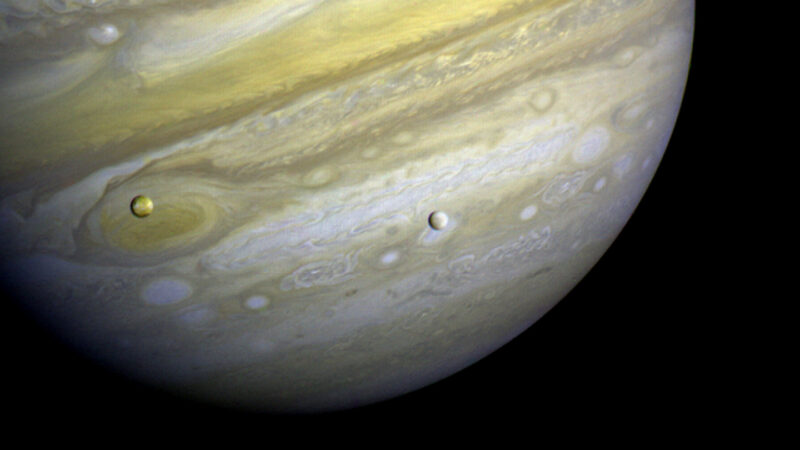 THE WOODLANDS, TEXAS — A young, ultrabright Jupiter may have desiccated its now hellish moon Io. The planet's bygone brilliance could have also vaporized water on Europa and Ganymede, planetary scientist Carver Bierson reported March 17 at the Lunar and Planetary Science Conference. If true, the findings could help researchers narrow the search for icy exomoons by eliminating unlikely orbits.
Jupiter is among the brightest specks in our night sky. But past studies have indicated that during its infancy, Jupiter was far more luminous. "About 10 thousand times more luminous," said Bierson, of Arizona State University in Tempe.
Science News headlines, in your inbox
Headlines and summaries of the latest Science News articles, delivered to your email inbox every Thursday.
Thank you for signing up!
There was a problem signing you up.
That radiance would have been inescapable for the giant planet's moons, the largest of which are volcanic Io, ice-shelled Europa, aurora-cowled Ganymede and crater-laden Callisto (SN: 12/22/22, SN: 4/19/22, SN: 3/12/15). The constitutions of these four bodies obey a trend: The more distant the moon from Jupiter, the more ice-rich its body is.
Bierson and his colleagues hypothesized this pattern was a legacy of Jupiter's past radiance. The team used computers to simulate how an infant Jupiter may have warmed its moons, starting with Io, the closest of the four. During its first few million years, Io's surface temperature may have exceeded 26° Celsius under Jupiter's glow, Bierson said. "That's Earthlike temperatures."
Any ice present on Io at that time, roughly 4.5 billion years ago, probably would have melted into an ocean. That water would have progressively evaporated into an atmosphere. And that atmosphere, hardly restrained by the moon's weak gravity, would have readily escaped into space. In just a few million years, Io could have lost as much water as Ganymede may hold today, which may be more than 25 times the amount in Earth's oceans.
A coruscant Jupiter probably didn't remove significant amounts of ice from Europa or Ganymede, the researchers found, unless Jupiter was brighter than simulated or the moons orbited closer than they do today.
The findings suggest that icy exomoons probably don't orbit all that close to massive planets.