There was a time when firepits were a luxurious experience you enjoyed at fancy hotels.
All that changed during the pandemic. Firepits were a great way to safely gather with other people outdoors. They didn't require a lot of space, provided warmth in the cooler months, and could even be a place to cook food. Even as the pandemic has receded, firepit sales are continuing to go up, with sales hitting $6.8 billion last year and expected to grow at an annual rate of 6.5% over the next seven years, according to Grand View Research. This suggests that firepits are becoming a new backyard staple, much like a grill or deck chair.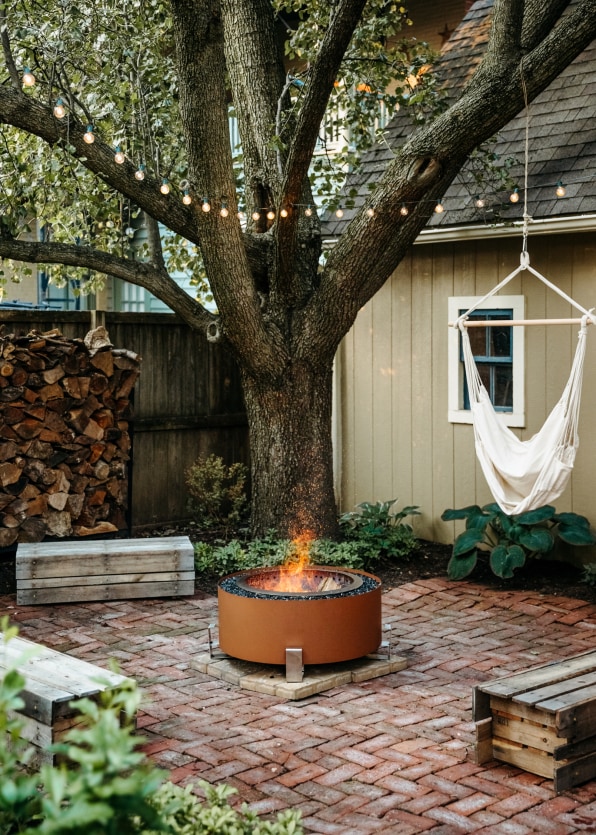 Jonathan Miller watched this all unfold firsthand. A decade ago, he cofounded Breeo, a brand that patented the first smokeless firepit. For years, his firepit sales grew slowly, largely through specialty patio retailers. But then, when the pandemic hit, sales quadrupled from $5 million to $20 million overnight. And fortunately, Breeo's products are made in Pennsylvania, so the company was able to scale up production and ship products to consumers quickly. "Everyone wanted to be outside, and we provided a way for them to gather around something," he says.
Breeo's sales align with the rest of the firepit industry. Home Depot saw firepit sales grow exponentially during the pandemic, and they have continued to grow in the aftermath. "The pandemic made people see their backyard as an oasis," says Ashley Murphy, the fire merchant at Home Depot. "The firepit is now seen as a way to complete your patio or garden project. We expect this trend to continue."
If you have firepit envy, it's not too late to set up one of your own. And it's a great time of year to do so, as the weather starts getting warmer and flowers start to bloom. But for the uninitiated, setting up a firepit can seem complicated—and potentially even dangerous, given the open flame. Here is some advice from experts about how to set up a safe, multifunctional, and cosy firepit in your backyard.
What kind of firepit should I get?
If you step into a garden store, you'll see a wide range of different firepits. One decision you'll need to make is whether you want a wood-burning or gas firepit. Murphy says this is really a matter of personal preference. Gas fires up quickly, although it doesn't get as hot; wood can take longer to build into a fire and is smokier. "I personally prefer the feel of a wood burning fire and the aromatics of the smoke," Murphy says. "But some people like the convenience of switching on the propane tank and immediately having a fire."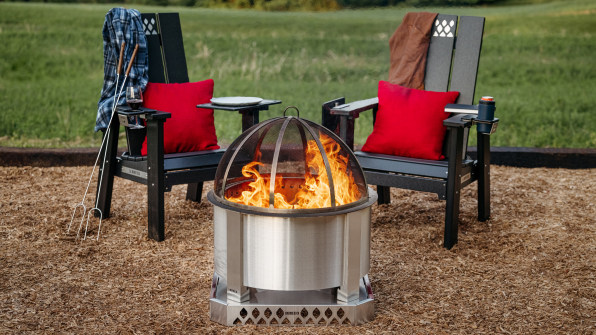 If you decide on a wood-burning fire, you need to figure out if you want to go for a smokeless or low-smoke firepit. Over the past decade, thanks to brands like Breeo, there's been new technology on the market that incorporates a system of holes into the base of the firepit that lets in more oxygen, reducing the amount of smoke. Murphy says there's been an interest in these new firepits. "They mean you don't leave the firepit smelling of smoke, which many customers like," she says. That said, they tend to be a bit pricier.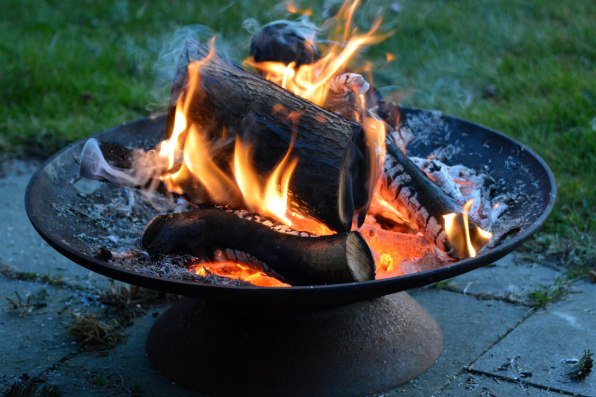 The rest comes down to aesthetics and price. You can get a high-end firepit to fit the aesthetic of your house for upwards of $1,000 as well as more rustic pits that are reminiscent of a camp fire that cost under $100. Brands like Breeo offer products in the middle of that range, with prices that start at $400. Some firepits are designed to last years, while others will only last a few years before you have to throw them out. Hard core firepit lovers gravitate toward steel firepits that develop a patina, or a layer of thin rust, over time. "The rust creates a distinct look and doesn't impact how the firepit works," says Murphy. "Our customers love them because they show how long they've had it."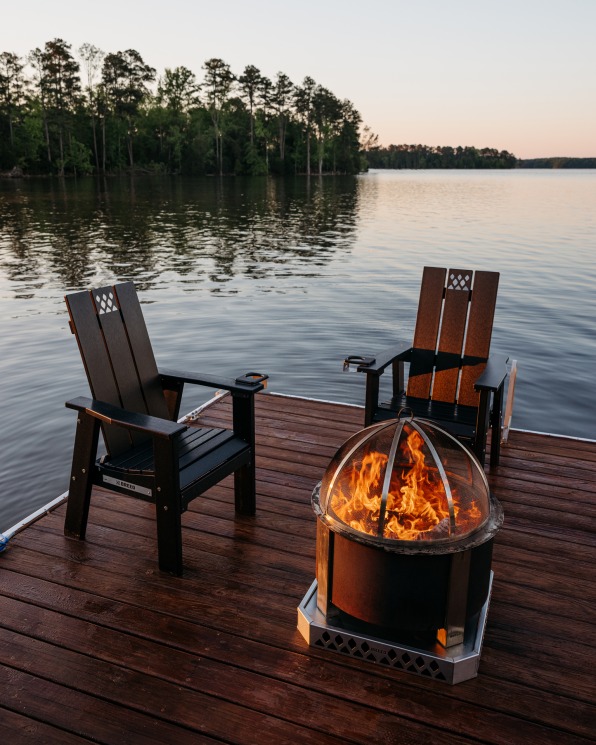 Where Should You Set It Up?
Since a firepit involves an open flame, you need to think carefully about where you place it. Murphy says you should make sure the firepit is at least 10 feet away from your house, in a completely uncovered area. You also want to keep it away from brush or anything that might be flammable.
One of the safest places to put their firepit is on concrete or pavers, which can withstand high heat. That said, you can buy a base that is specifically designed to withstand the heat. This allows you to comfortably put the firepit on a deck or even on grass. And you can also buy spark screens that prevent sparks from landing on flammable things like leaves.
Murphy points out that there are now many portable firepits that are designed to be light enough to bring with you when you go camping or on vacation. If you get one of these, it makes sense to buy a base because you never know if you're going to be in a location where you might need it.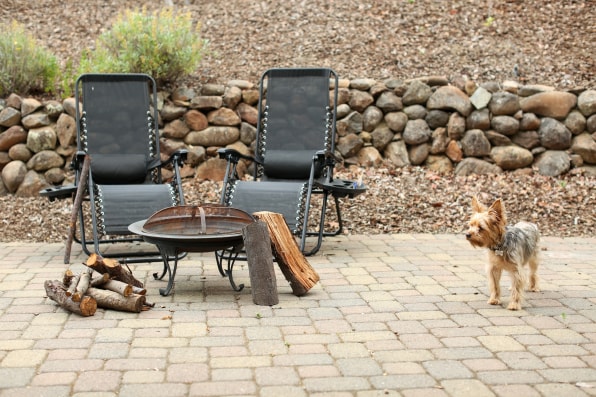 How Do You Keep Children and Pets Safe?
Miller has two small children, so he's very conscious about trying to keep them safe. "No matter what kind of firepit you buy, it's going to be hot, and as a parent, you need to be very aware about keeping your kids away from hot surfaces," he says. "A child who touches the firepit, or even the hot ground around it, is going to be burned."
That said, he has used his firepit almost every day even with children around. When his kids were small, the best way to keep them safe was to create a wall around the firepit with bricks that was high enough so that children could not climb it, but low enough so that the adults can manage the fire and any cooking. "You can go to any home store and buy blocks with little angles on them, then stack them up," he says. "This is the safest solution if you have kids or pets."
And importantly, if you're going to have a firepit in your home, it is critical to instill in kids safe behaviors much like you would with a hot stove in the kitchen or a swimming pool. Miller instructs his kids not to run or play close to the fire, and to be extremely careful even when doing things like roasting marshmallows.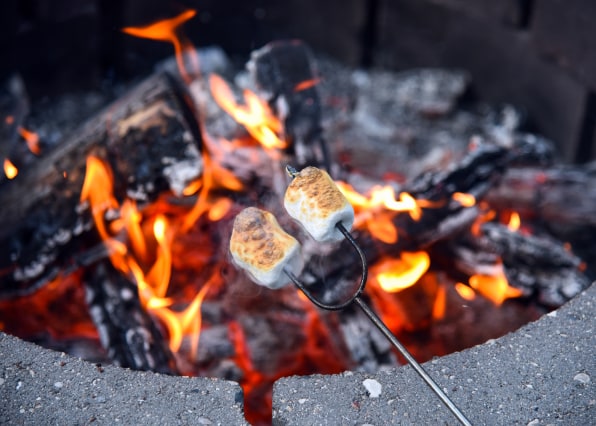 What Tools Do You Need For Cooking?
Many people love the idea of cooking with a firepit, but cooking requires a few accessories, says Murphy. You might want a sear plate that you put very close to the fire so you can cook at high temperature, which is great for meat. Then there are grills you attach with a post so they sit a bit higher; this is good for cooking things at a lower, slower temperature. Not all firepits are equipped for these accessories, so if you're interested in cooking, you need to think about what kind of firepit will accommodate the kind of food you'll be making.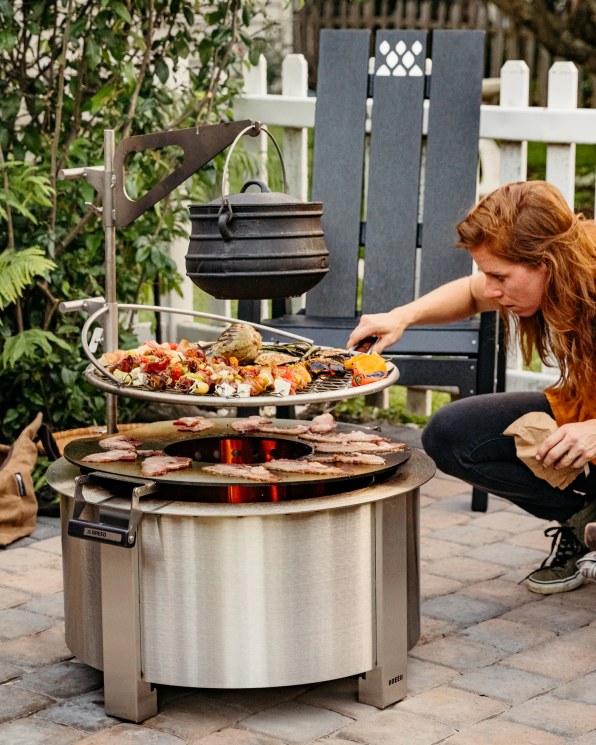 Miller is focused on making it as easy as possible for people to cook on the Breeo, which has a lot of cooking attachments that allow you to grill and sear, as well as things like kettles to boil water. But he says there are some important things to note about cooking outdoors.
He says that while flames may look impressive, they don't produce as much heat as embers. So it makes sense to let the fire burn for some time and start cooking when embers are burning in a slow, controlled manner. And unlike cooking in a kitchen, it can be very hard to know exactly how hot the fire is, or how well-done your food is. So it's always best to check the internal temperature of meat with a meat thermometer. "There is no shame in using a meat thermometer," he says. "Even the most experience firepit masters use them, because it is very hard to control the heat in a fire."
How Do You Protect It Off Season?
One of the best parts of having a firepit is that it allows you to stay outside for much of the year, even when the weather turns cold. Some brands, including Breeo, sell heat deflectors, which allow you to use the firepit as a heater if you want to be outside in the winter.
But to protect your firepit from the elements, Murphy says you can buy a lid or a cover for it, to protect it from rain and snow. Even if you buy a firepit that is advertised as a year-round product, she says its worth keeping it in good shape. "You want to prolong the life of your firepit," says Murphy. "It's something you'll be able to enjoy for years."